Are You Leaving Money on the Table by Ignoring Risk?
In this blog post Michael Stippak and Burkhard Ravagni address the question of savings by using what is included in AutoForm's standard delivery. They uncover the principle of "As Little as possible, as much as necessary" to determine how much licensing and processing power do you really need to run the forming simulations your team requires to deliver tool design on time.
In engineering we live by the principle of "As little as possible, as much as necessary." One of the interesting things we witness is how well we apply this principle, or not, to many aspects of our lives.
On the one hand we meticulously record our wedding date into several different calendars to remind ourselves. Yet on the other hand we are impulsive-buyers, adding everything to our shopping cart during our weekly grocery shopping, even if our partner has already done a nice shopping list. Still, despite such preparations, we still reach for all those unnecessary and overpriced things. Life is filled with irrationality at the best of times. The question then becomes how well can we really live up to the idea: "As little as possible and only as much as necessary" in the world of part forming? It should be a guiding force at the workplace. We are not paid for doing anything other than this.
Once you look at your individual role several questions arise: What is my job about? How is my workplace equipped? And finally what am I required to do as an employee in order to perform as expected?  We appreciate each individual comment on our "story." Yet the competence to safely and professionally deal with the cost-value ratio is not God-given. Besides our own experience more and more hardware and software tools support us in doing things as "good enough."
Since the integration of AutoForm-Sigma into the standard software delivery, YOU, as an AutoForm customer, have access to a very powerful tool supporting this principle.
Our tech colleagues, who are always close to our customers, have observed quite a few cases where the speed of the AutoForm-Sigma analysis, as is standard in the software delivery, does the trick in a reasonable time. Take for example the B-pillar reinforcement as shown in figure 2. The question then arises: "How do I ensure that my results are good enough at the end of the day?" AND "What criteria would determine the need to commercially upgrade an AutoForm-Sigma Extension Pack 8 or 32?"
Let´s try to find an answer … (and feel free to add comments of your own)
Case example I: The Tool & Die Shop
As a Tool & Die Shop you are typically responsible for achieving the feasibility of your product during the tryout phase and often ramp-up time. But, even taking all of your experience and best practices into account, you often exceed planned costs due to unforeseen correction loops and changes. You are measured on the results. Any additional effort, for example to decrease non-robust springback behavior, given by your tryout colleagues and project members doesn't necessary earn you extra money.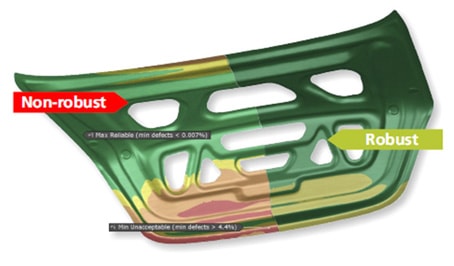 Fig. 1: Robustness study of the deck lid inner.
The reality of this case, including tight deadlines, might be far more complicated than just set up and pull the trigger! Here, using "as little as possible" with the AutoForm standard package usually means reaching its limitations. "As much as necessary" requires an upgrade to AutoForm-Sigma Extension Pack 8 or 32.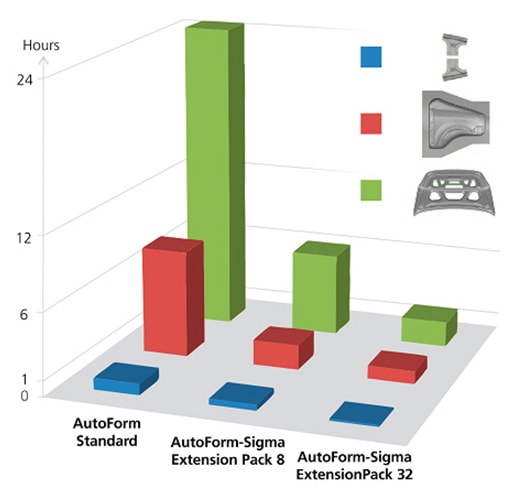 Fig. 2: Robustness calculation time for three parts across three software packages. (B-Pillar Reinforcement/Fender/Deck Lid Inner)
Depending on what your customer claims you to deliver, you sooner or later realize that upgrading the AutoForm-Sigma Extension Pack is your only option.
Case example II: The Engineering Service Provider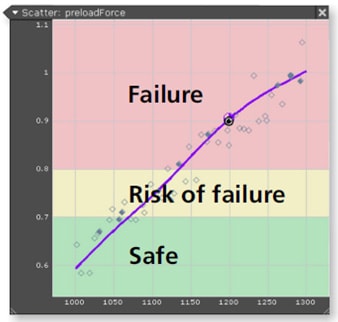 Putting together the requirements and expectations from the client, your own in-house expertise and available hardware and software, determines your business, wouldn't you agree? During tool and process design engineers typically define many design parameters. Yet, achieving a desired result requires you identify a necessary parameter combination. How often do you vary the design parameter in order to achieve the target? How good is "good enough" from the client's point of view and from your own business point of view?
Performing a parameter study, in most cases, will have a substantial impact on the performance of the product and its process, and on the value of the product, resulting in a satisfied customer, e.g. by providing a safe solution instead something too close to tolerance limits for comfort.
Conclusion
There are a number of criteria determining to use the maximum performance available.
Depending on the individual circumstances, such as deadlines, quality targets, commercial gain, globalization etc. it may become recommendable to use an AutoForm-Sigma Extension Pack. You can always improve your way of working to satisfy your client, to delight your employer and to enjoy working.
If you are not sure how to go about using the "good as good enough" as included in your AutoForm standard delivery then feel free to contact your local AutoForm dealer.
Written by: M. Stippak and B. Ravagni, AutoForm Engineering