Full Digitalization of the Stamping and Body-in-White Assembly Process Chain (Part 1)
T

he future is digital. It's better to futureproof yourself and join the digital transformation! This is part one in this series of blog posts on digitalization of the automotive industry by introducing the digital process model for stamping and assembly. Untapping and demonstrating the potential of end-to-end process optimization.
The automotive industry is in a transition mode, as various mobility and people-centric trends are impacting the automotive market (see Figure 1). Moreover, various technology trends related to the development of smart factories and industry 4.0 are affecting the automotive industry (Schuh et al., 2017). As a result of these trends, many automotive OEMs are now emphasizing electrification, digitalization, and autonomous driving. Consequently, the requirements and needs of automotive OEMs are changing and budgets are under pressure, as is the turnover growth of many automotive companies. In response, several carmakers have announced aggressive cost-cutting initiatives (see Figure 2). Such cost-cutting initiatives are required to adapt to the new market conditions and to ensure that companies can allocate sufficient resources to emerging technologies.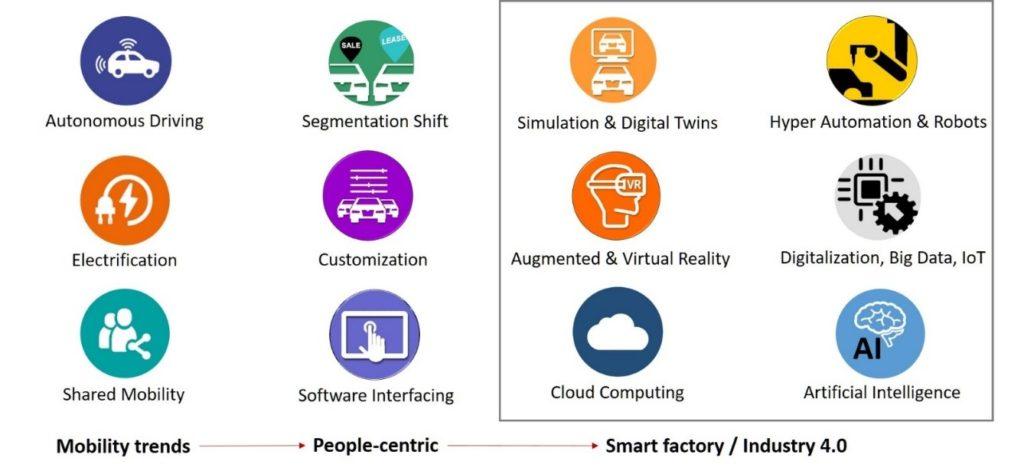 Fig. 1: Trends in the automotive industry
Car makers are attempting to become more agile and resilient by implementing business and organizational changes and to reduce costs through the increased use of simulation technology and digitalization. These efforts are illustrated by the following two examples (see Figure 2):
Groupe Renault is planning to reduce costs by more than €2 billion over three years (Renault, 2020). Renault's plan is to improve the efficiency of operations by, among other steps, reducing engineering costs by increasing digitalization and optimizing the efficiency of production sites by implementing a strategy entitled "Digital Factory 4.0." The planned changes will be implemented in consultation with the group's partners, including its current software suppliers.
Toyota is planning to cut total costs by 24% over a period of less than three years (Toyota, 2019). Its cost-cutting approach is based on increased digitalization and the application of simulation technology. Simulations will replace physical tests and prototypes, and digitalization should lead to efficiency improvements in the cooperation among departments, suppliers, and businesses.
The above examples show that, to achieve savings, OEMs need to fundamentally transform their operations by tapping the potential of digital transformation. Clearly, digitalization will play an even more important role in addressing concrete industry needs not only in terms of cutting costs but also by increasingly creating value for OEMs such as Renault and Toyota. The question is thus as follows: How can the increased use of simulation technology and full digitalization of traditional stamping and BiW assembly processes bring significant quantified value to the automotive industry? The answer lies in the introduction of the digital process model as the enabler of the digital transformation of stamping and assembly processes in the automotive industry.

Fig. 2: Challenges and initiatives in the automotive industry (Toyota, 2019; Renault, 2020)
Process Management Today
Changing customer needs and requirements make it increasingly important for OEMs and their suppliers to have in-depth knowledge of and the ability to redesign their business and organizational processes, understand the tasks that they ultimately want or need to complete (Christensen et al., 2016), and identify related value disciplines and future skills. Various digital customer tasks have to be performed in the main customer task of manufacturing cars (see Figure 3). The first steps are the engineering process, tool design and manufacturing, and the stamping of car body parts. These customer tasks are supported by conducting comprehensive simulations for the virtual evaluation and optimization of the tool design and stamping process. The physical stamping process, which takes place in the press shop, should subsequently produce high-quality automotive parts in a robust manner (Wiebenga, 2014). Car body parts are subsequently assembled into a BiW in the body shop.

Fig. 3: Digital customer tasks in the process of manufacturing cars
The execution of the customer tasks depicted in Figure 3 is today being supported by digital tools, although in a very fragmented manner. In the past (and, to a certain degree, even today), some customer workflows were heavily segregated into individual departments and teams. Such a strongly segregated, compartmentalized organization will be visualized in our next post.
In such an organization, each department or silo works according to their own set of targets and milestones, and each may use different software tools. As a result, experience, information, and data is shared between the various departments or silos to a very limited extent. This lack of exchange and knowledge sharing leads to loss of information and data and creates situations whereby decisions can only be made by considering historic references, previous experience, or the context within each silo. This disconnect between silos leads to reactive behavior and the upstream propagation of issues, which then need to be resolved upstream. Generally, this happens late in the process and can thus causes delays in the entire development process and value chain, resulting in significant unnecessary costs and schedule delays.
In part two we cover, "Untapping the Value Potential of Digital Transformation – The Digital Process Model as Enabler." 
References
Christensen, C.M. et al., 2016. Competing against luck: the story of innovation and customer choice, New York: HarperCollins Publishers.
Renault, 2020. Groupe Renault press release – cost reduction plan project 2o22, https://www.globenewswire.com/news-release/2020/05/29/2040668/0/en/GROUPE-RENAULT-Press-Release-Cost-reduction-plan-project-2o22.html, 07-08-2020.
Schuh, G. et al., 2017. Industry 4.0 Maturity Index – Managing the Digital Transformation of Companies, https://en.acatech.de/publication/industrie-4-0-maturity-index-managing-the-digital-transformation-of-companies/, 31-08-2020.
Toyota, 2019. FY2019 Financial results and examples of TPS and cost reduction, https://global.toyota/ pages/global_toyota/ir/financial-results/2019_4q_presentation_en.pdf, 07-09-2020.
Wiebenga, J.H., 2014. Robust design and optimization of forming processes, PhD thesis, University of Twente, Enschede.