Is it time to cross the chasm to mainstream EV adoption?
NIO, Li Auto, Tesla and other electric vehicle (EV) stocks and car sales have been skyrocketing over the past months. EV sales may overtake gasoline-powered cars by 2035, according to SAE China's Technology Roadmap 2.0. What is the path to mainstream EV adoption in China? In this blog post, Christoph Weber (AutoForm Country Manager China) shares the key takeaways given during his presentation at the last German Chamber of Commerce event held in Shanghai so that you can make your own assessment.
2020 was a near-death and rebirth for China's EV industry
COVID-19 hit China's EV industry twice as hard as the rest of the auto industry and laid bare its weaknesses:
Reliance on fleet car sales, as there are no affordable models for the mainstream market on offer. During the epidemic, fleet car sales for ride-hailing services were down, since people stayed at home and did not want to share vehicles. Mainstream users tend to prefer familiar and well-established brands at value prices — even more so in times of uncertainty.
Reliance on government support, as New Energy Vehicle (NEV) subsidies have been phasing out since summer 2019. Governments needed all available resources to fight the epidemic and could not support NEVs through public procurement of (for example) public transportation buses and police cars. Several cities temporarily relaxed restrictions on gasoline vehicles during the first months of the epidemic, which made EVs less attractive in comparison.
Dependence on external financing in an optimistic market environment; most EV startups and EV programs in established carmakers have not reached profitability yet. They depend on external financing that have confidence in their future profitability. The financial markets faced a credit crunch in the beginning of the pandemic, which has forced several startups out of business.
However, the gradual relaxation of lockdown measures in China and rebounding of financial markets over the course of the year enabled EV sales to pick up and EV stocks to skyrocket.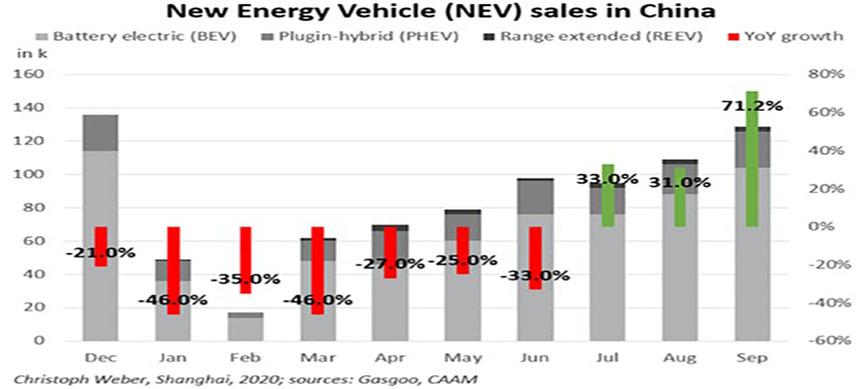 Click to enlarge
Through this crisis, four winners have emerged in the Chinese smart EV startup scene: NIO, Xpeng, Li Auto and Weltmeister (WM Motor). Their stock prices have skyrocketed over the past six months (WM Motor is not listed yet). These four could continue to grow their sales numbers, even after Tesla reduced prices for its China-made Model 3. Following near-deaths in early 2020, these four survivors have emerged stronger than ever.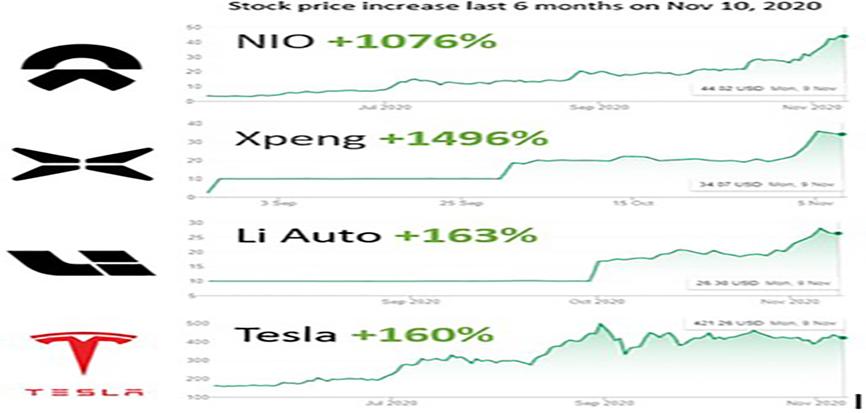 Click to enlarge
China State Council & SAE China aim for mainstream adoption of EVs and ICVs by 2035
In October 2020, China's State Council released its "Development Plan for the New Energy Vehicle Industry 2021-2035" and the Society of Automotive Engineers (SAE) of China presented the "China Technology Roadmap for Energy Savings and New Energy Vehicles 2.0". The two plans are well aligned to complement each other. They include objectives, forecasts, guiding principles and high-level measures for the adoption of NEVs and Intelligent Connected Vehicles (ICVs) in China by 2035.

Click to enlarge
Pure electric vehicles will be the dominant powertrain in China by 2035. EVs represent 95% of NEVs, with fuel cell vehicles (FCVs) playing a significant role. EV sales should reach 20% of all auto sales by 2025, 40% by 2030 and 50% by 2035. The remaining Internal Combustion Engine vehicles (ICEs) will be transformed into low fuel consumption vehicles, meaning they meet strict fuel consumption targets.
Connected and autonomous vehicles will be widely in operation by 2035. Half of all new vehicles should be equipped with vehicle-to-environment (V2X) connectivity equipment by 2025. The target is to integrate automobiles with the communication and energy sectors in smart city ecosystems.
Government authorities will help to coordinate vertical and horizontal industry standards that consider China-specific requirements. The goal is to establish internationally competitive Chinese players, technologies and brands.
Next, we'll describe how EVs can reach these targets and overcome the key hurdles towards mainstream adoption in China.
China's charging infrastructure is arriving
China's charging infrastructure of 1.32 Mio piles represents half of the world's share and is rapidly growing. 74% of charging piles are located in the tier 1 or 2 cities (Beijing, Shanghai, Chongqing,) and coastal areas (Guangdong, Jiangsu, Shandong, Zhejiang, Fujian). Several cities announced the addition of further piles (Beijing will add 50k by 2022, Shanghai will add 100k by 2023) as part of the government's promotion of "new infrastructure". While urban areas and the highway system are well covered, rural areas will still remain underdeveloped for some time.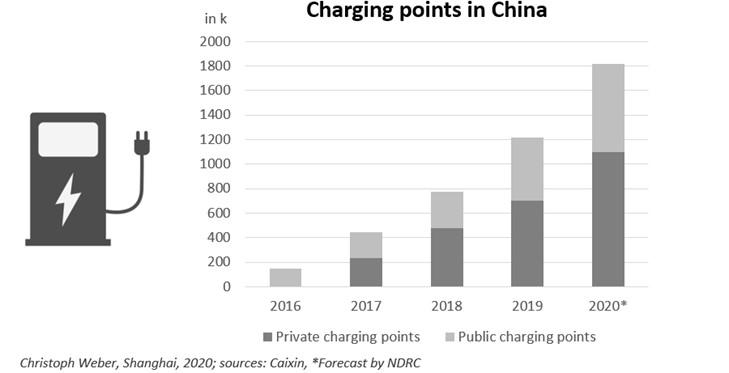 Click to enlarge
80% of charging stations are operated by the top 5 operators: Qingdao Teld with 144k stations, Star Charge with 112k, China State Grid with 88k (holding the monopoly on highway charging stations), Jiangsu YKC with 44k, and EV Power with 25k. Individual carmakers' charging networks remain insignificantly small in comparison, as they are primarily used to showcase the carmakers' fast-charging stations to the public. China State Grid and other leading operators founded the joint-venture "UniEV" in Beijing, which consolidates data of all operators into one single interface (API). Consumers can access this via the app "YeahCharge". Carmakers can integrate the charging network from these operators into their own platforms and offer a seamless experience to their customers.
EVs will become cost competitive without subsidies by 2023
Today, an average electric vehicle costs CNY 50-150k (EUR 10k) more than a gasoline vehicle. This premium makes EVs unattractive or even unaffordable for mainstream consumers. The chart below shows the cost structure of a typical electric vehicle. The cost for an electric drive train is similar to or perhaps slightly lower than a gasoline powertrain. The main difference is the high cost of the battery pack, which is essentially added to the cost of the car and represents a stunning 35% of the complete vehicle cost. Material costs in battery cells are the key cost driver.

Click to enlarge
The good news is that battery costs have been declining rapidly thanks to technological developments. Electric vehicles are expected to reach cost parity with traditional gasoline vehicles by 2023. Subsidies may bridge the gap until that time and enable cost-competitive cars even earlier.
Scientists have been improving the chemical processes involved in batteries to reduce the share of cobalt and nickel. Cobalt is critical to moderate and cool the chemical process. However, it is the most expensive material in the battery cells. Furthermore, cobalt is extracted from only a few mines, mainly in Congo, where there have been multiple reported cases of child labor. So this is not only a cost issue, but also an ethical one. Another approach is to recycle more battery cell materials to increase sustainability and reduce costs.
Furthermore, companies such as Tesla and GM are developing the "1-million-miles" battery. A longer battery lifetime ensures higher vehicle resale value and enables secondhand usage for power storage in households. This would reduce the value depreciation of electric vehicles.
In solid-state batteries, the electrolyte liquid between anode and cathode is replaced by solid-state materials such as glass or ceramics. This allows tight, solid layers of anode, cathode and electrolyte, potentially requiring only half the storage space and weight and significantly lower costs. Furthermore, such solid-state batteries could be integrated further into the car body structure in order to optimize packaging space requirements. Solid-state batteries may be mass produced by 2025.
Besides technological developments, various companies are challenging traditional business models in order to facilitate EV adoption. NIO has introduced the Battery-as-a-Service (BaaS) business model in China. With BaaS, consumers buy just the car without its battery and then lease the battery for a monthly fee, which reduces the purchase price to a level similar to traditional cars. A centralized company, such as NIO Power, is better positioned to manage battery assets including depreciation, particularly considering the rapidly evolving battery technology.
Looking beyond batteries, more carmakers provide their smart EVs with continuous software updates over the air (OTA) across the vehicle's lifecycle. This continuous expansion in functionality over its lifetime saves vehicles to some extent from depreciating over time.
A wide choice of EV models will be available by 2022
So far, there are only a few electric niche models available on the market. Most models are unattractive and overpriced compared to what traditional gasoline cars can offer. For instance, the BMW i3 seems outright ugly in design compared to otherwise well-styled line of BMWs. However, startups such as Tesla and NIO have demonstrated that EVs can be attractive. Still, there is hardly an attractive EV on offer for an affordable price. Fortunately, this is about to change, and over 500 EV models will be launched globally by 2022, according to Bloomberg NEF.

Click to enlarge
Volkswagen (VW) has established its dedicated ID series for EVs and announced the launch of 80 EV models by 2025. General Motors (GM) intends to add 20 EVs to its entire "multi-brand, multi-segment" market portfolio by 2023. This includes entry models such as SAIC GM Wuling's "Hong Guang Mini" and even an electric version of its infamous Hammer. Today, the majority of GM's employees have already shifted to working on EV models. Out of the high-volume manufacturers, only Toyota is still stepping lightly when it comes to EVs, instead relying on their success in hybrid powertrains. The premium makers Daimler and BMW have announced a wave of EVs for the coming years, offering the designated EQ-series by Daimler and i-series by BMW.
There will be a wide choice of electric models already available within the next twelve months, bringing EVs from niche to mainstream. The higher scale production, particularly from the established high-volume producers, generates scale economies that enable affordable EVs for everyone.
China has developed a strong supply chain and ecosystem for EVs
Without surprise, China is very well positioned for a leading role in the EV industry based on its strong supply chain and ecosystem. This starts with two of the world's largest battery makers, CATL in Fujian and BYD in Shenzhen, and extends to a strong communication ecosystem by tech companies such as Tencent, Baidu, Alibaba and Huawei. The most dynamic smart EV startups, NIO, XPeng, Li Auto and Weltmeister, are all backed by China's tech giants.

Click to enlarge
More recently, major international carmakers have invested heavily into their EV design and production capacities in China. This is only natural, as China is the world's largest EV market and consumer requirements are most progressive towards new mobility concepts. Toyota formed a joint-venture with BYD to secure a battery supply and jointly develop EVs. VW invested in battery maker Gotion in Anhui province, which has already announced an increase in capacity. The iPhone assembler Foxconn announced their entry into the EV game by providing EV platforms and components to carmakers. BMW is now producing its first worldwide pure electric SUV, the iX3, in Shenyang rather than Munich. Geely permits its international brands, Polestar and Lync & Co, to produce EVs in Chengdu, selling them to China and around the world. EVs from VW's Anting plant and Tesla's Shanghai plant may well be exported to Europe.
Is it time to cross the chasm to mainstream EV adoption?
Any new technology passes through several stages, from early to mainstream market adoption. A few early adopters are willing to accept shortcomings of an immature technology and even pay a premium in order to express themselves as visionaries. Therefore, we have seen a few EVs in our streets for several years already. However, the majority of customers are pragmatic and conservative; they will only switch to EVs once all practical hurdles are overcome. Geoffrey Moore called this the "crossing of the chasm" from early to mainstream market adoption. The high barrier of this "chasm" is the reason EVs still only represent a few percent of car sales today. However, once all key hurdles are overcome and the chasm is crossed, the majority of the market will swiftly tip in favor of the new technology of EVs.
There is a high momentum for EVs in China these days. The charging infrastructure in urban areas is already in place. Electric vehicles will be cost competitive by 2023 and with subsidies and government incentives, even earlier. A wide choice of EV models will be launched within the next twelve months. Is now the time to cross the chasm to mainstream EV adoption in China?
"Don't be afraid to take a big step. You can't cross a chasm in two small jumps." D. George
Let's go!