Marc Bellencontre from Faurecia Clean Mobility tells us how simulation helps in his day-to-day expert work to ensure part designs are healthy and production will run smoothly in service of optimal costs and meeting his customers' requirements.
Faurecia Clean Mobility (FCM) is one of Faurecia's four business groups. It is a car parts manufacturer focused on developing and producing zero and near zero emission solutions. Our R&D center, created in 1975 in Bavans (Doubs – France), is dedicated to finding solutions for emission control in exhaust systems, energy recovery, engine improvement, and new acoustic designs, and since 2018, is developing hydrogen storage systems.
I've worked at FCM for 10 years, following several years at Arcelor Mittal. As a stamping expert, I work closely with part designers to make sure our products will provide the right functionality for our customers while remaining easily feasible and mindful of cost and time.
The specificity of exhaust components means that everything needs to fit in a dedicated – and limited – space. The challenge is to develop the right solution considering the space constraint, even with ever-changing regulations that require more components to ensure their respect. How you decide to split your component into different parts is also critical; this will, for instance, dictate which manufacturing process to use, e.g., hydroforming or stamping processes. These choices need to be made by the part designers and should be as correct as possible very early on.
FCM works with its customers to produce and design their ultra-low emission exhaust solutions. When our customers call us with a new engine design or the need to comply with new regulations, we work together to define the specifications to fulfil their needs, from environmental regulation to noise levels and the amount of available space in the vehicle. A first design is then created; sometimes our customers have very specific ideas in mind, and we receive an initial complete concept from them. Other times, they ask us to come up with the designs to fit their requirements.
This first design must then be assessed as quickly as possible, which is where AutoForm helps us immensely — as our CAD team designs the parts, they need quick and reliable feedback to check if their designs will be feasible. For each part, we need to check backdraft, radii, curvatures, and often the best parameters for exhaust are the worst for manufacturing, so compromises need to be made!
My job is to support our CAD team and share some basic process knowledge to make sure they facilitate the manufacturing job as much as possible while still ensuring the necessary functionality. The idea is to produce healthy parts as soon as possible.
I use AutoForm often at this stage, for both tube and sheet metal forming. It is a great tool to teach our part designers some of the process issues that can be prevented through simple design choices. The part can be analyzed extremely quickly, and any part issues can be corrected just as quickly and explained to the part designer. Using AutoForm, I can immediately define the potential design changes on the part to solve the problem and simulate their impact on the feasibility. It serves as an impressive communication tool during our design review meetings, when the design is not yet fixed. I particularly appreciate that you do not need to have any drawing skills to communicate your ideas: in less than 5 minutes, you can directly modify the part to explain to the part designers what they need to change in their CAD file (Picture 1).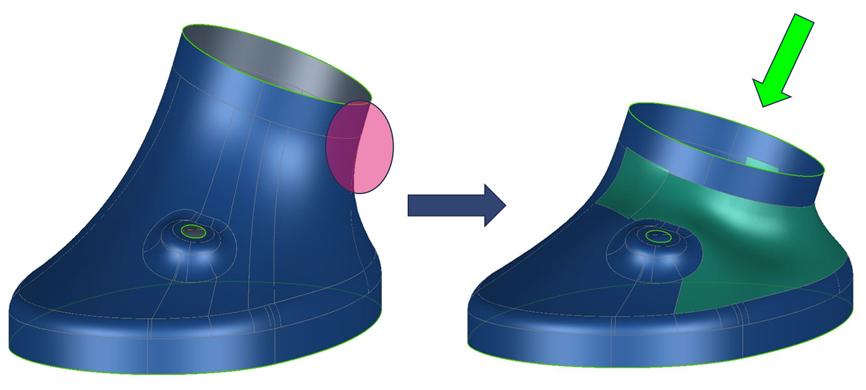 Picture 1: quick and easy part modification to explain the modification needed in CAD
I can also send the modifications I make in AutoForm directly to other departments, which is extremely valuable; when I export the modified surface in .iges format from AutoForm, this surface is sufficient for my colleagues to use directly downstream for fluid- and thermo-mechanical analysis. They no longer need to wait for the CAD surface to be finished!
This is also a great tool for building knowledge internally, helping the part designers gain confidence in analyzing their designs and defining a robust quality workflow. They can check the part themselves using AutoForm and contact me if they need more insight on the next moves. I use this tool often with our Indian colleagues, as a drawing is often better than words to explain your issue, particularly in the face of a language barrier.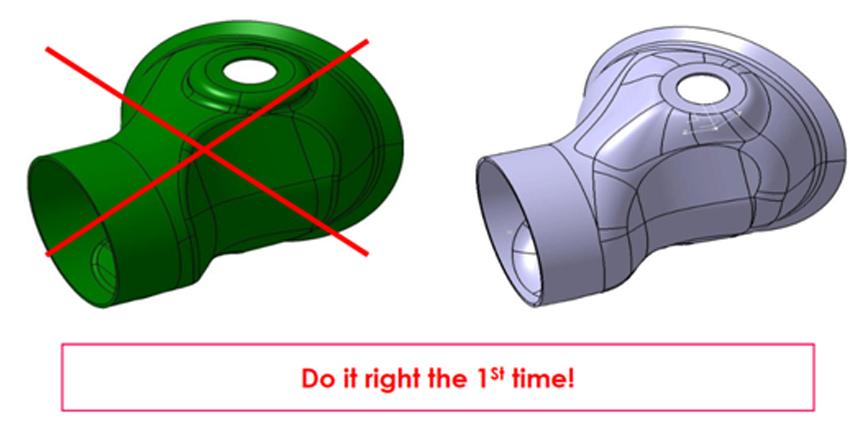 Picture 2: Do it right the 1st time
AutoForm solutions help us internally understand what to expect and plan accordingly. We can confidently answer our customers' requests while remaining aware of the material consumption and overall process planning we need for the different components. Our sales team is even becoming increasingly interested in the use of simulation as a communication tool with our customers. This would help us explain our perspective in more detail and come to a compromise when needed. As time is an ever-increasing issue, it's becoming even more critical to do it right the first time and AutoForm is an essential tool to our success!
About Faurecia
Founded in 1997, Faurecia has grown to become a major player in the global automotive industry. With 266 industrial sites, 39 R&D centers and 114,000 employees in 35 countries, Faurecia is a global leader in its four areas of business: seating, interiors, Clarion Electronics and clean mobility. The group's strong technological offering provides carmakers with solutions for the cockpit of the future and sustainable mobility. In 2020, the group reported total turnover of €14.7 billion. Faurecia is listed on the Euronext Paris market and is a component of the CAC Next 20 index. Find out more at: www.faurecia.com