We kicked off the new event series "AHK Automotive Circle" by the German Chamber of Commerce with a breakfast session at AutoForm's Shanghai office on July 27th. Prof. Tilman Tillmann presented "Challenges in Digitalization," Christoph Weber provided an update on China's auto market, and we discussed participants' current topics. In this article, Christoph Weber shares his takeaways from China's auto market update for July.
In the first half of 2023, we saw a weak recovery in passenger vehicle sales from the low 2022 baseline, stabilization in commercial vehicle sales that began to absorb the construction stimulus from 2020-2021, and record vehicle exports and EV sales. Overcapacity and low demand are driving exports and an ongoing price war. Only a few players dominate the EV space by delivering affordable models and a futuristic user experience.
Passenger Vehicle (PV) sales: Weak recovery and consumer down-grading

Passenger Vehicle (PV) sales in the first half of 2023 showed weak year-on-year growth compared to the low 2022 baseline. Internal combustion engine (ICE) sales remain relatively flat, with only NEVs and exports showing continued growth. Demand is still weak despite the easing of Covid restrictions and supply chain constraints. The stimulus in 2022 has pulled forward sales from 2023.
Tesla initiated a price war in 2023 that quickly extended from the EV space to even the ICE market. Overcapacity and weak demand have left no alternative. The China Association of Automobile Manufacturers (CAAM) rallied several domestic and international OEMs to cease the price war to prevent further profitability deterioration. However, just one day after CAAM announced the agreement to halt discounts, they quickly withdrew it due to antitrust concerns.
The first half of 2023 brought several segment shifts. Weaker consumer confidence has led to downgrading from premium to more affordable options, allowing no-frills BYD to thrive while premium NIO underperforms. Domestic brands have captured the majority with a 53% sales share in 2023H1, marking the first time since China opened its automotive market 40 years ago. Japanese brands have suffered the most, with their market share dropping from 20% in 2022 to 15% in 2023H1. GAC Toyota laid off a thousand workers this month.
Commercial Vehicle (CV) sales: CV stabilization from dismal 2022

CV sales have stabilized in 2023H1 from the very low base in 2022. CAAM expects annual CV sales of 3.8-4 million in 2023. The crucial truck segment within CVs is heavily dependent on construction activity. The construction stimulus from 2020-2021 and standard upgrades led to record truck sales during that period, but demand was exhausted in 2022 and thereafter. The housing market is mostly weak today, with investments led by single state-owned enterprises. China's export of commercial vehicles has been increasing, offering long-term growth potential.
Vehicle exports: Overcapacity drives China to become global export champion in 2023

China overtook Germany in 2022 as the second-largest exporter and is on track to surpass Japan as the largest exporter in 2023. China's vehicle exports grew by 80% YoY to 1.9 million vehicles in Jan-May 2023. The top three export destinations were Russia, Mexico, and Belgium—with Belgium serving as an entry gate to the European Union market. The primary export destinations for EVs were Belgium, the UK, and Thailand.
Overcapacity and weak demand are propelling China's exports as a "release valve" in this push market. Most exports are still ICE vehicles. We can anticipate another significant wave of export growth for EVs due to China's EV supply chain's cost advantage and competitive products. The VW ID3 currently sells for approximately EUR 35k in the EU compared to only 15k in Mainland China, highlighting the heightened competitiveness of the Chinese EV market.
New Energy Vehicle (NEV) sales: Affordable EVs drive growth to 30% NEV sales share

NEV sales have continued their strong growth stage in 2023H1. CAAM predicts a 30% NEV sales share with 9 million NEV sales in 2023. The affordability of EV models is driving EV adoption and, consequently, NEV sales to new records. Price cuts in the market are leading to enticing offers. Additionally, Chinese regulators extended purchase tax exemptions in 2023. Companies have introduced attractive EV models at more affordable price points than ever before. The BYD Seagull offers a small yet fully functional car for just CNY 80k, filling a void in this low-price segment that international carmakers are currently unable to meet.
NEV leaders in 2022: Few players dominate EV field by affordability and futuristic user experience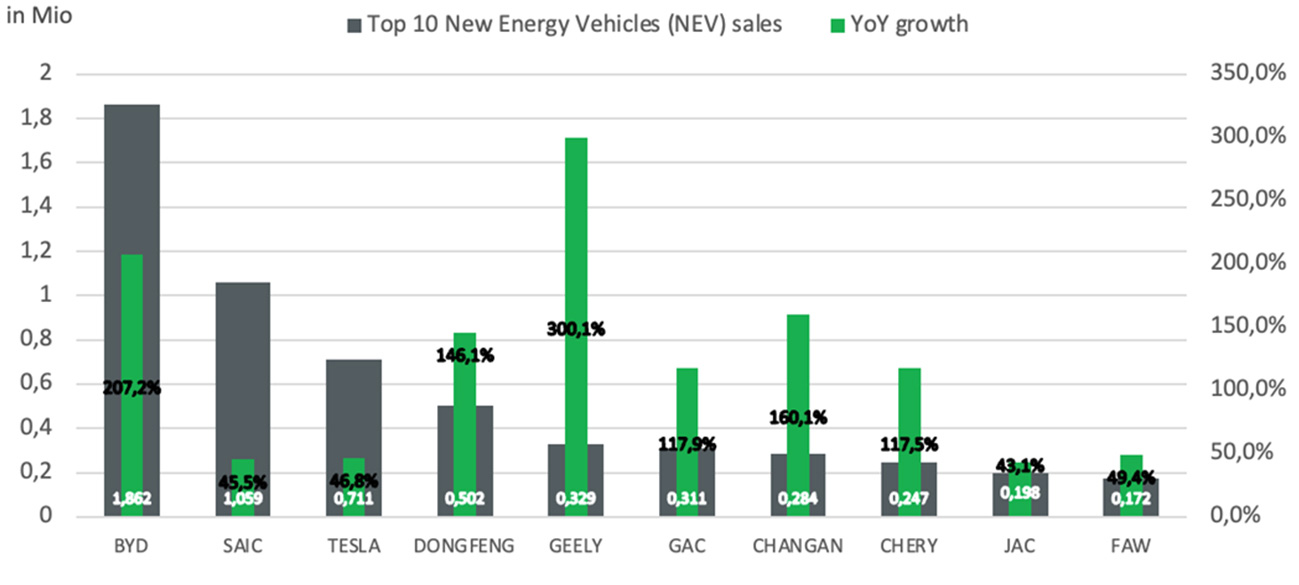 The NEV space is dominated by only a handful of players, a concentration that will continue driving consolidation. The top 10 companies account for 80% of NEV sales, with Chinese brands comprising over 80%. BYD, Tesla, and Chinese private OEMs lead in EV sales. BYD and Li Auto cover 74% of the popular plug-in hybrid (PHEV) sub-segment. Virtually all international joint ventures and Chinese state-owned enterprise OEMs are struggling in the rapidly evolving EV space.
The NEV leaders reveal two key success factors: affordability of EVs and offering consumers a futuristic user experience. Whatever future mobility holds, the robust consumer group of younger Chinese individuals anticipates this technology in their cars today—seamless integration into the lives of digital natives and advanced automated driving.
Automakers have acknowledged this trend and are launching bold initiatives to align with new consumer expectations. Geely acquired Meizu mobile phones, and NIO announced plans to offer mobile phones under their own brand. Toyota will revise their product design process to enable hardware product iterations throughout product lifecycles, such as upgrading sensors for automated driving post-sale. The VW Group announced multiple investments and collaborations with Chinese automakers to double down on the China market and accelerate their "In China, for China" strategy. Audi will license SAIC's IMMotor platform, and VW will license Xpeng's platform to bridge the gap until VW's own SPP platform is ready.
Data source: China Association of Automobile Manufacturers (CAAM): 
Event photos: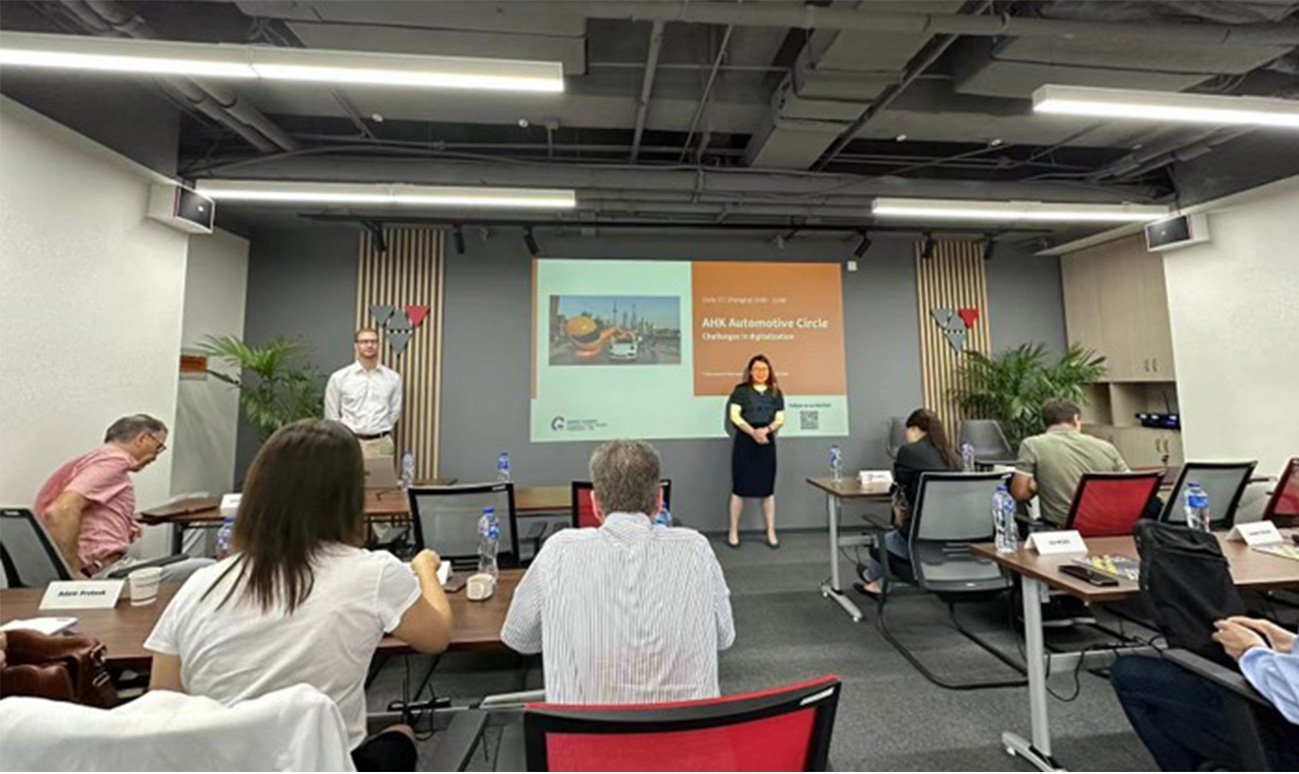 Photo: Daisy Zhu and Christoph Weber welcoming participants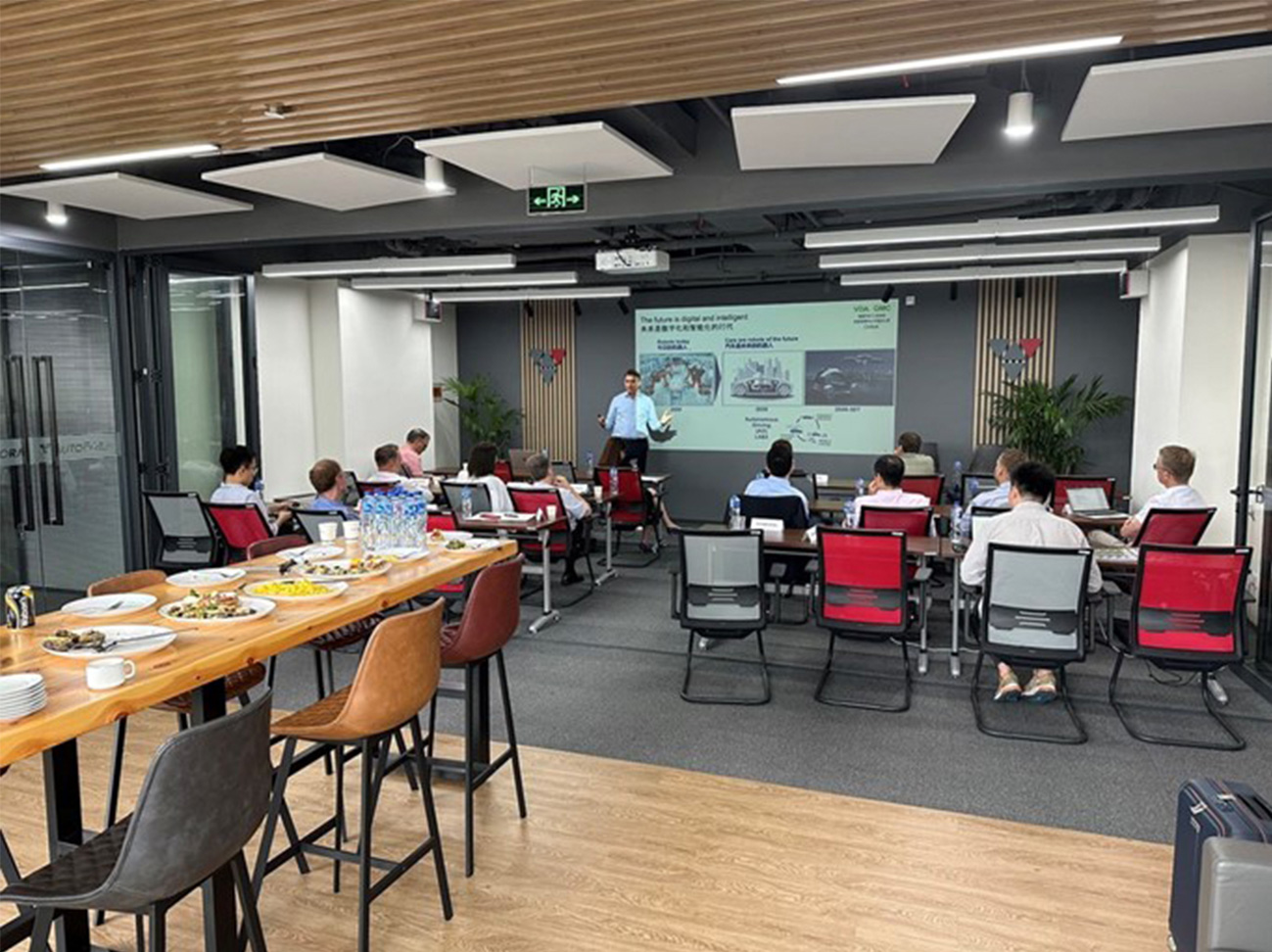 Photo: Prof. Tilman Tillman presenting challenges in digitalization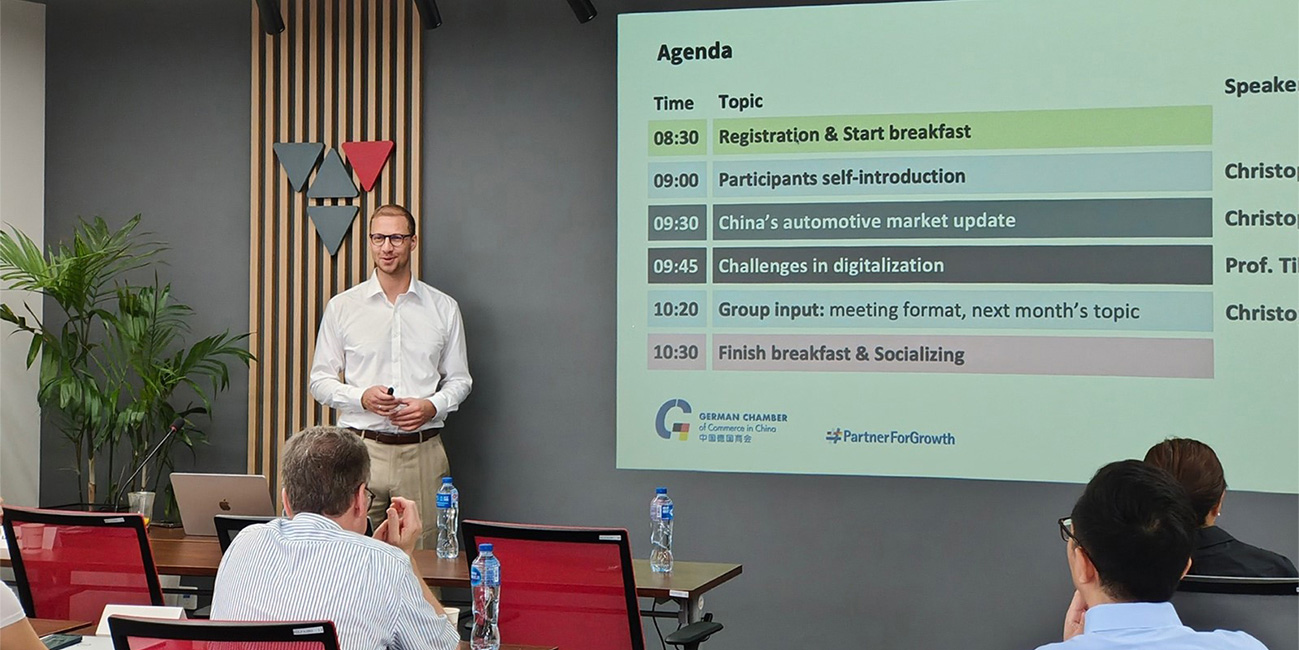 Photo: Christoph Weber providing China's auto market update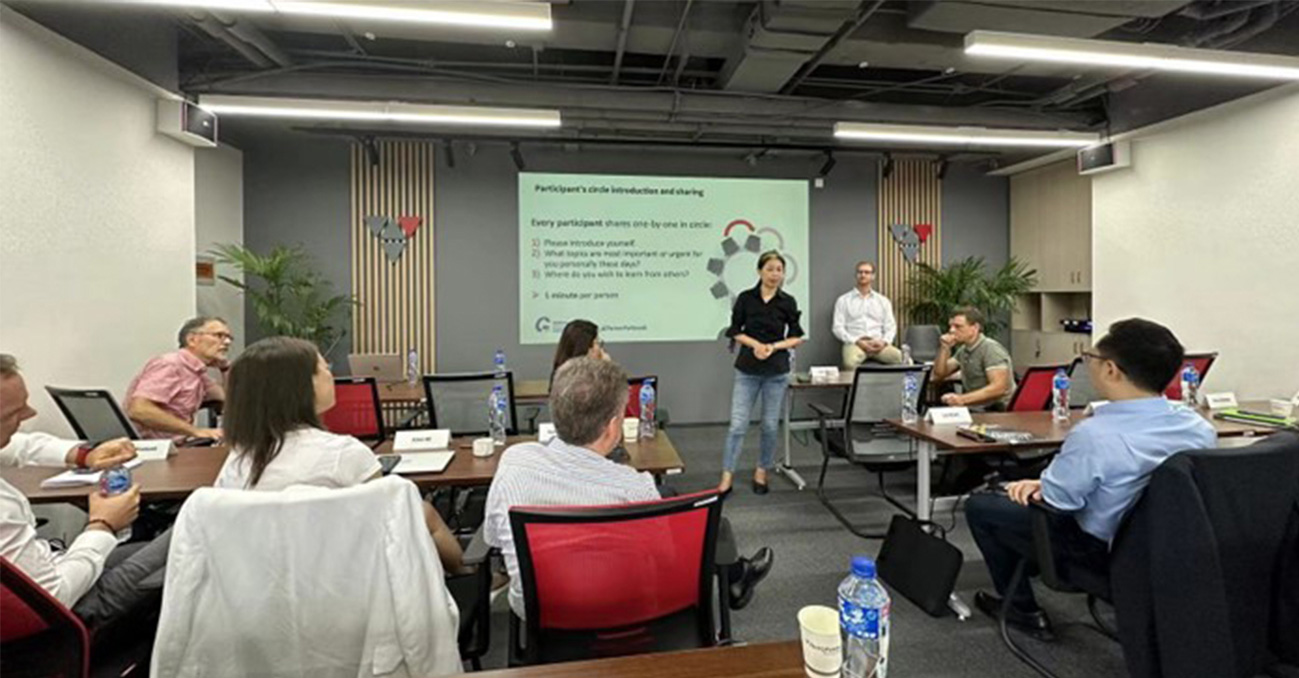 Photo: Participants engaging in circle discussion