Behind the Side Panel Benchmark Project in Brazil
In this brief interview Fernando Tersetti, Application Engineer from AutoForm Brazil, shares a recent experience of his, putting AutoForm to the test directly with a major customer. This post continues our series of Anonymous Customer Stories previously mentioned. Not all our customers give permission to share their names and methods, but with this series you can still find out what is happening in the sheet metal forming simulation world.
"It all began in 2017 when our customer purchased a series of training events that would be applied throughout the year. Of these events, three separate classes were dedicated just to ProcessDesignerforCATIA. Teams from two different departments attended and it became clear that the teams did not have an awareness of our software's full capabilities."
"Such training events go 'all too smoothly' for the taste of some skeptics, seeing that the example parts used for training and their solution had already been found in preparation. Therefore users from this major player were highly skeptical of the speed of modelling presented, which gave AutoForm the chance to do a benchmark with the customer."
"AutoForm consultants delivered an in-house demonstration, applying the tools of ProcessDesignerforCATIA and its template to fully develop the draw operation of a side panel this customer had recently worked on. The anonymous car in question has in fact recently been launched, just this year in 2018 after this story. Therefore, our customer left no room for delays, only handing over the data on the last day of the actual training event as part of their test. The data contained all the original tool geometries they had developed using native CATIA General Shape Design, along with the original part geometry. As part of our after-training service the tool geometries were recreated in AutoForm and delivered."
A few weeks after the first training, Fernando gave a presentation of the results. He showed the results on the actual CATIA file, and to conclude he did a comparison.
Surface developed in Process Designer for Catia

Reference Surface
Fernando pointed out some problems he had found on the roof region, arising from the quality of the product geometry, and how he had used AutoForm-ProcessDesignerforCATIA tools to solve these problems. "At this point I received brilliant feedback from our customer. Normally what they see at a software presentation, from any company, are prepared parts whereby every command works perfectly and all the issues have been already ironed out. That is not the case with this benchmark part, which really impressed them. Their response indicated that they could indeed see themselves using the software to great effect" said Fernando.
"The second point to consider is the question of the expected amount of time needed to develop the tool geometry. The customer expected it would take an experienced side-panel specialist approximately eighty hours to develop the model in their native CATIA. Contrary to this expectation however it in fact it only took forty five hours to model the entire geometry, including preforms, flange development and drawbead creation."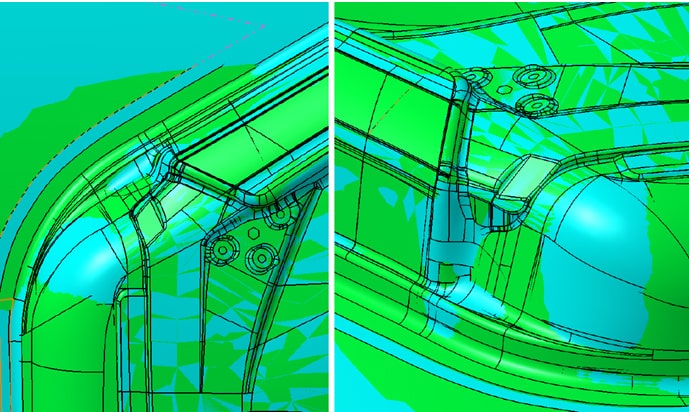 Surface developed in Process Designer for Catia

Reference Surface
"The success of our benchmark demonstration led to two other classes being scheduled by this major customer, the final of which has just been completed in Brazil. During one of our last visits to their location, the managers gave us very positive feedback on the continued use of those new skills and tools trained during these face to face trainings. By all accounts, the implementation of our AutoForm solution has resulted in impressive time savings, resulting in the shortening of the development for the two side panel families by a couple of months."
Fernando H. Tersetti, Application Engineer, Brazil.
Dear new readers, now is a great time to sign up to our blog and receive a once per month email covering our latest post. We'll never send you marketing emails. Thanks to those who have already signed up!