Here's the Answers Shared with Participants
In this blog post Florian Mahle, Technical Process Consultant from AutoForm, shares two questions and his answers that were put to him at a recent event on class-A panels and skin panels in India. He shares his answers in full, for all to see here at FormingWorld.com.
Recently AutoForm's Florian Mahle from Germany gave a seminar in Hyderabad, India, on "Class-A Panels & Skin Panels." This topic evoked interesting questions and Florian presented the latest ideas on how to address its associated challenges. The workshop was covered over a two day event with thirteen participants, coming from nine companies from all over India who actively use AutoForm.
Before sharing the top two questions it must be said that during this two day workshop Florian covered the following key topics:
Best practices for die face design of class-A panels.

Requirements for setup of base simulation to ensure reliable prediction of surface defects.

Assessment of process capability.

Springback analysis and control.

Specific evaluation criterion for class-A panels.

Skid-line analysis.

Surface-lows
Florian said "The two most important questions were "How to efficiently predict potential surface defect during engineering" and "Tips and best practices for minimizing surface defects."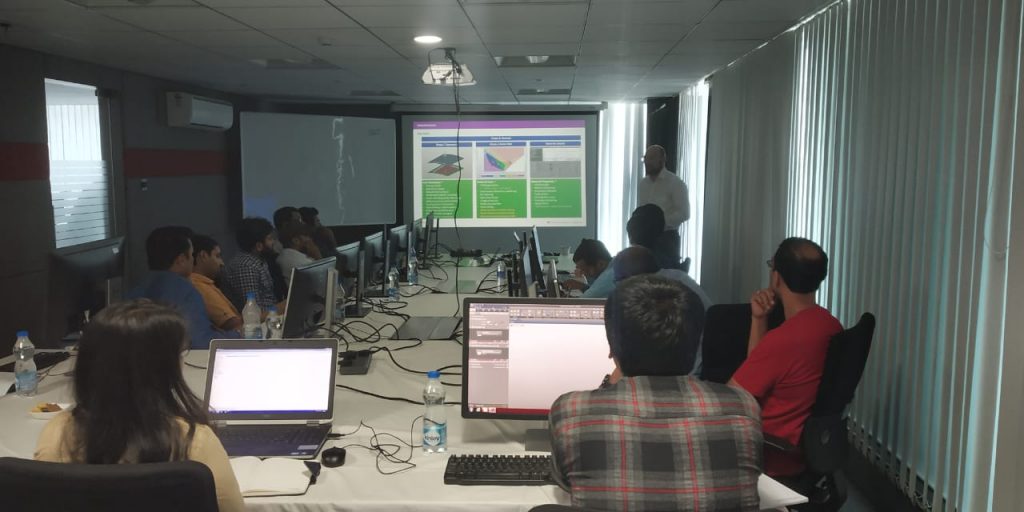 "Due to the nature of the questions asked some detailed discussions followed, covering the importance of correct and accurate set up for surface defect analysis, clear direction for evaluation surface-lows, ideas for surface defect control (punch grind-off etc.) and spotting strategies in simulation. For the entire audience the discussion was interesting, stimulating and interactive."
"Many surface deflections are extremely shallow and hard to see/detect. Seeing that many cars depend on surface quality and the unique contours that highlight a vehicle's shape arriving to the highest level of surface quality is a must. A glossy finish says everything. I shared with the group AutoForm's virtual stoning analysis, which is a technique applied across a panel surface to expose shallow indentions." At FormingWorld.com we have already proven the accuracy of this tool, as seen in the stoning analysis done with our customer Renault in this blog post here.
"Furthermore, discussions about spotting strategies covered possibilities to define pressure areas in simulation according to process specific workflow.
Adaption of tool gap to consider sheet thinning effects is done by manual adjustments at shop floor.
Thus depending on information from NC department and actual milestones to be achieved at shop floor, it is possible to define holding conditions to either basic spotting state at closing or to spotting state more close to bottom stroke by making use of partial bearing lines and tool stiffness parameter. By this it is possible for shop floor to achieve similar draw-in and material movements within shorter time frame and guaranty comparable boundary conditions for matching results.
Further these adaptions of tool gap considering thinning effects (spotting state) also needs to be taken into account when analyzing surface defects in holding areas of follow up operations".
"During the discussions participants also shared their example stories and how they overcame challenges in previous projects. Therefore those present were able to draw upon the expertise of all those present with their know-how from across India. This makes attending AutoForm workshops quite special and extremely rewarding for those present."
Follow to this page to our site to book yourself into a local AutoForm training event now.