Reflections on Evolving Hotforming Simulation
Approximately 10 years ago, AutoForm launched its solution for simulating hot forming processes of sheet metal parts. This blog post contrasts the vision of a user who has been familiar with the solution since its inception, Borja Fernández, PH Standardization and Advance Manufacturing Manager at the metal component manufacturer Gestamp, with Dr. Alper Güner, Technical Product Manager for this AutoForm solution.
Hot forming process for sheet metal parts: a concept that seemed sophisticated, ambitious, and perhaps a bit far away to begin with. Fast forward a few years and this complicated process has become a reality, providing a response to demands for vehicle weight reduction while maintaining or increasing the passive safety.
When considering this technology, several challenges arise that we must overcome, such as the use of ultra-high strength steels (UHSS) characterized by low ductility and high springback, or excessive wear of the tools involved in this process.
On the other hand, it must be taken into account that hot forming does not only involve a deformation of the sheet metal, but also a transformation of the microstructure of the material. As such, it is essential to control and correctly define the coupling of the mechanical and thermal processes.
For engineers working at process design, die face layout, tool design, these cold and hot stamping applications also efficiently and effectively need to share the common knowledge and to intensify each core technology through one framework or one digital platform.
Back in 2009, Borja Fernández, who at that time was working at DIEDE – an engineering company engaged in hot forming simulation, design and tools tryout – became interested in AutoForm, considering the interface to be very user-friendly compared to other software available at the time.
As he mentions, "For us, besides the part feasibility studies, one of the most important points was to be able to check the efficiency of the designed cooling systems. At that time, there was no stamping software that included that module."
Between 2010 and 2011, the first version of AutoForm's solution to simulate hot forming processes was released. As Dr. Güner points out: "When you check different publications (engineering journals, websites, conferences, etc.) before our solution appeared on the market, you will see that the modelling of hot stamping relied on many simplifying assumptions. Simulation software at that time was simply using the Austenite flow curves, omitting temperature dependency of elastic properties, phase dependent volume changes, and many other consequential parameters. Process engineers knew that the material models were oversimplified and they were demanding a more sophisticated and accurate solution. Starting from the first version of our release, we have been addressing these aspects. AutoForm modeled the mechanical process, taking into account the material conditions at a very high temperature, not only during forming, but also during the subsequent quenching phase. This is in line with AutoForm's philosophy of developing an intuitive and user-friendly interface, as appreciated by Borja Fernández.
Over the years, hot forming has enjoyed increasing popularity. The first parts manufactured by this process included those comprising the SAAB 9000 model in 1984. Nowadays, more than 40% of BIW parts are manufactured by hot forming.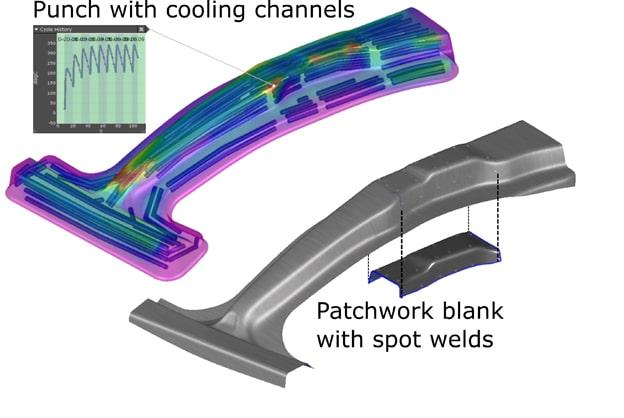 Fig. 1: Punch with cooling channels and patchwork blank with spot welds.
Over time, new technologies have appeared, with the aim of reducing delivery time while maximally optimizing the die behavior. One essential aspect that Borja mentioned earlier is the validation of the tool cooling channels. Dr. Güner elaborates on the ability of the current version of AutoForm to define and validate the cooling system: "With the utilization of different technologies, we developed corresponding solutions in the software. For example, the tool shops were particularly concerned about the cooling efficiency of the cooling channels and the impact on the final product properties. Therefore, we introduced 3D heat conduction in the tools, with consideration for the cooling channels. We noticed that the patchwork blanks were being used more frequently. To address this need, we introduced accurate modeling of patchwork blanks as separate blanks connected by spot welds. With this resource, we can now model the patchwork blanks and spot weld failure more accurately. Apart from that, we introduced greater flexibility in determination of the material parameters, such as temperature dependent FLCs and temperature dependent R-values. Finally, we gradually introduced solutions for different phase tailoring methods like heated tools and differential cooling."
As Borja puts it, "The AutoForm software has become much more technical, providing solutions from the field of cooling system testing to the prediction of the microstructure of stamped parts. In addition, a module for the prediction of process windows (AutoForm-Sigma) has been developed, through which the robustness of the simulated model can be more fully validated. One of the main advantages of using AutoForm is the ability to use one software for the entire process, where previously we needed several. You can simulate the stamping process, check the cooling channels distribution, take out the developed outline and its optimization, and know what the metallographic composition of the part will be. All using the same software. What's more, AutoForm is backed by highly qualified professionals."
A concept that has been gaining traction lately is Industry 4.0, also called smart industry or digital transformation by platforms standard, which seeks to transform business processes through digital innovation to achieve a consistent quality improvement and drastic cost reduction with digital accuracy.  AutoForm has been working in this direction for years by digitalizing the entire sheet metal forming process chain. Recently, we launched our latest product, AutoForm-TryoutAssistant, to support the tryout and production teams and to connect the engineering and shop floor departments bi-directionally. Dr. Güner concludes, "AutoForm wants to provide an efficient tool for designers to optimize their processes along to engineering process chain. In terms of hot forming, we are looking for a complete solution to all new technological developments and new materials emerging in the industry." 
Hot forming is undoubtedly a technology that is here to stay. Like all state-of-the-art technology, it must be accompanied by solid-and-accurate simulation software to maximally optimize the process.