Manufacturing sheet metal parts using progressive dies instead of traditional dies has the potential to cut part costs significantly. In developed markets, 30-40% of car body parts are produced with progressive die technology. In China, this share currently sits around 10%, rapidly increasing as the industry matures and becomes ever more cost competitive. As a result, even parts with complex shapes are manufactured with progressive die technology, replacing the more expensive transfer line dies. In this article we share how engineers in Chinese progressive die shops approach the their challenges through digital process planning.
First up: Bidding phase
Backed by years of experience, most progressive die suppliers have established their own method to estimate costs and execute bidding. While these proprietary methods are simple and fast, they come with certain disadvantages — the bid quality heavily depends on the competence of the engineer responsible, who must also have a well-rounded knowledge of CAD and CAE.
Addressing these disadvantages, AutoForm optimizes and upgrades the progressive die strip, fundamentally changing the feasibility analysis which could not be implemented quickly in previous versions.

Business value
As an example, let's consider YJ in Suzhou, a domestic progressive die supplier. They perform at least 1500 part bids per year, averaging 5 parts daily, with several people involved in bidding.

By introducing AutoForm's progressive die solution, YJ can save at least 2400 man hours annually.
In addition, if the project is undertaken at a later stage, the quotation feasibility files can be inherited and used. And if the product has undergone any modifications in the meantime, the project can still be carried out in the previous files due to the automatic adaptation of webs and all other features previously defined. This significantly reduces the time as the engineer does not have to start all over again.
Second step: Full strip process validation
There are three ways to carry out this process:
1. No virtual tool validation, only CAD tool design — applicable only to very simple small parts, and the tryout, re-cuts loops and quality of the die cannot be guaranteed.

2. Virtual tool validation, CAD tool design — can reduce the tool tryout and re-cut loops, however most of the design time is spent on CAD work.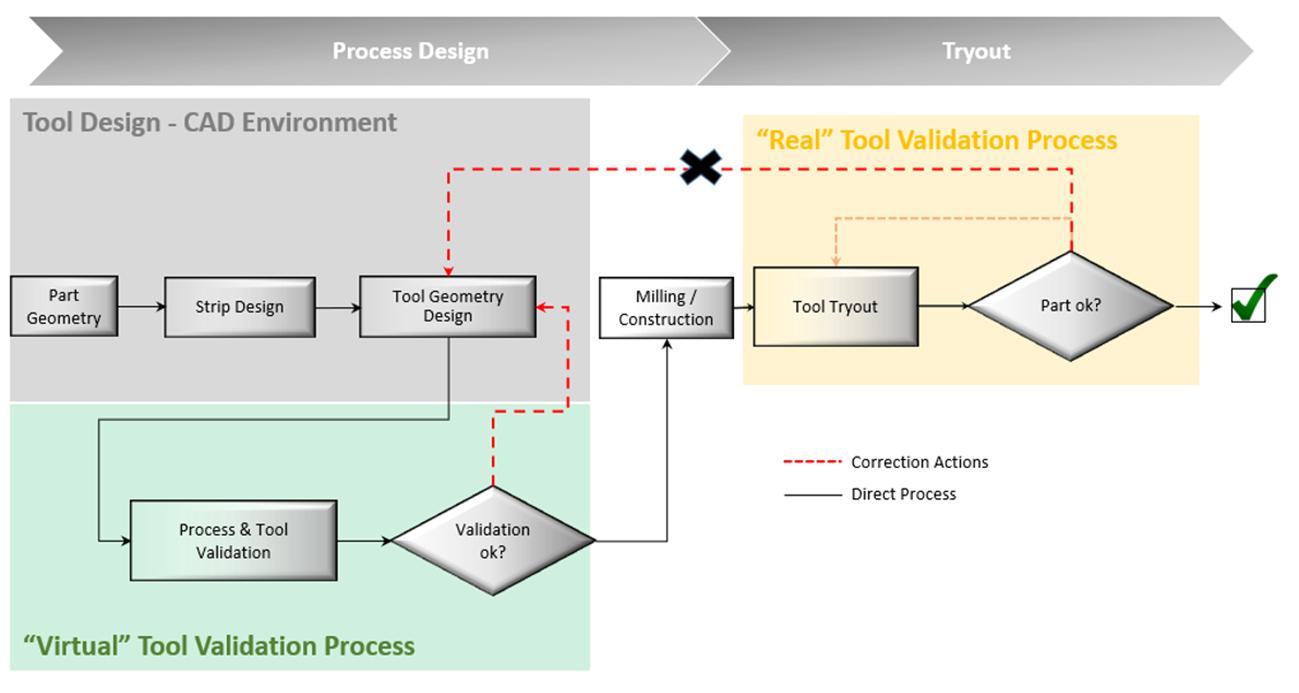 3. Virtual tool validation, strip concept and CAD design combined — parametric strip design is integrated into simulation software. Simulation setup is quick using generated tools and CAD strip design begins after successful simulation with no loops.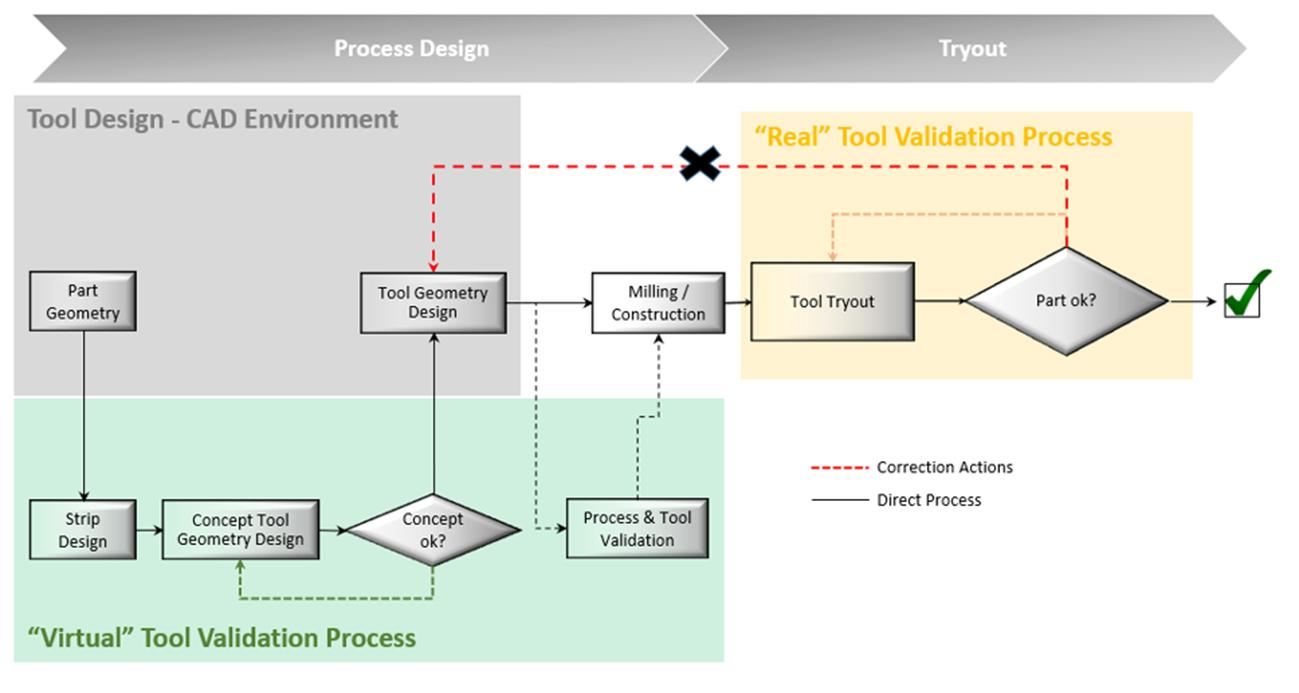 Implementing the digital process in the YJ tool shop
Tool supplier YJ conducted a pilot implementation project for digital process planning using AutoForm in their progressive die projects. The part is a typical multi-draw prog die design part. The engineer used AutoForm software to analyze the feasibility of the strip, evaluated the strip result, and completed the strip design scheme, then carried out a CAD strip design. They saved 50% of the engineering design time using digital process planning compared to their traditional workflow for similar part projects. The material utilization was directly adjusted for customer satisfaction. Subsequently, the tools were milled and tested in the tool tryout shop. The tryout was an absolute success as all issues were already predicted and solved in the digital engineering stage. They only required two tryouts, first without trim tools, then with the complete strip layout. No tool re-cutting was required and the parts reached a quality pass rate of 100%.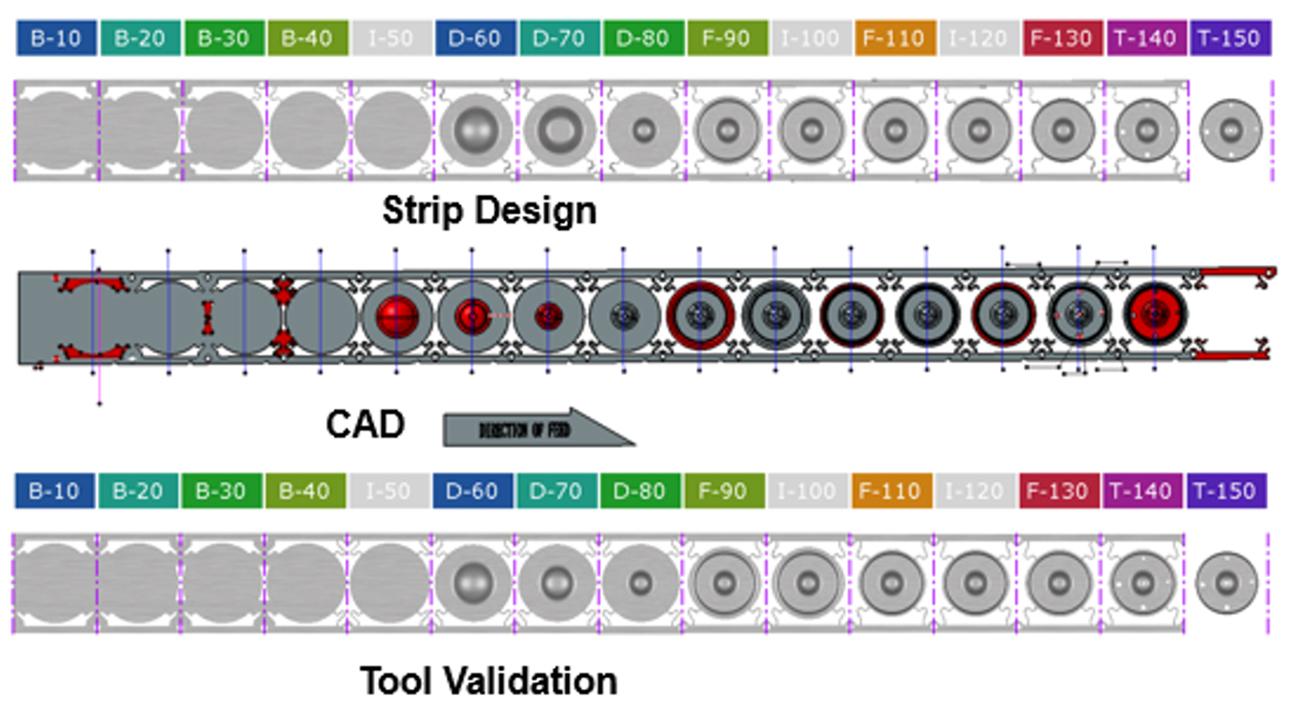 Mr. Li, Technical Manager of YJ, said: "We always performed the progressive die strip design in our own way. We first designed it in CAD, then verified it in CAE. We kept cycling and forcing ourselves to move faster to improve efficiency. However, through this project, I discovered that AutoForm can still be used in this manner. If we use AutoForm for progressive die design in the future, it will improve our work efficiency by more than 30%."
Die shops can take advantage of digital process planning to cut their engineering and tryout time and deliver high quality parts even for complex shapes. This allows them to capture a higher share of China's growing progressive die market for complex shapes in an efficient manner.