4 Solid Reasons Why and 4 Tips Before Applying
What distinguishes AutoForm from other companies and why would YOU want to work with us?
An available position on our website has potentially caught your eye. Now it's time for you to apply. This page has been written for both the newly-graduated student and for those wishing to advance their career to the next level. On this page you'll learn about our company and how to best prepare for your interview. Follow these steps and you'll be well-informed on the big day.
Company Overview and 4 Attractive Reasons to Work at AutoForm
Firstly, AutoForm develops strong products. Our software improves the productivity and efficiency of sheet metal forming around the world for the design of automotive parts and stamping tools. When you work at AutoForm you'll network with the major automotive manufacturers worldwide.
Secondly, AutoForm has the major market share and is a world market leader in stamping simulation and engineering. Dealing with tool makers, part suppliers and automotive OEMs means that your career history will be stamped with the success of a winning and well-respected brand.
Thirdly, AutoForm advances innovation. Each new release of our software contains significant technological innovations – some of which have proven to be groundbreaking, changing the way our customers do business. Your new ideas and those of our customers unite to keep us at the cutting edge of technology.
Fourthly, AutoForm is an owner-run business. As such, we act independently of stock markets and short-term tactical pressures. That means AutoForm concentrates on doing things right to achieve long-term and long-lasting success. This strategy has a proven track record: even in times when the global economic situation proved to be difficult, AutoForm still succeeded to grow, both in turnover and in number of employees. We are proud to say that in our 25 years of history we never once had to consider down-sizing our staff.
Aside from these tangible advantages to your career, we promote diversity, trust and offer a great working atmosphere. Our team is spread around the world yet supports each other closely.
"One of the greatest things I experienced over the years at AutoForm was the help I received from colleagues. Whenever I needed anything or had questions, colleagues were so willing to come forward to share their skills, to support or educate me so I knew how to do something. It was amazing. Some colleagues said, "Here, let me do that part for you," and so I in turn tried my best to help anyone here in the same way." Theo Jaegen, at his Retirement Farewell at AutoForm.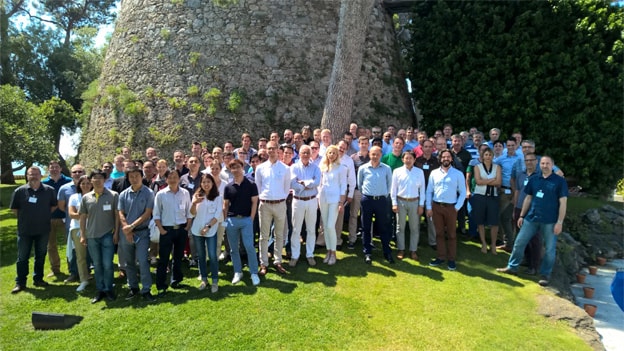 The AutoForm International Sales Meeting event held in Spain.
Preparing for Your Interview: 4 Tips to Get Ready!
Firstly, watch our YouTube videos. You can find our channel here. Learn about some of the sheet metal forming operations and our solutions. Visit our website and familiarize yourself with our products.
Secondly, take advantage of our blog FormingWorld.com. This portal not only has our latest news and customer stories, but you can actually ask questions using the comments feature on the blog. Leverage this portal to your own advantage to address any questions you might have. Our experts always answer questions there. You'll then come to your interview with a far deeper knowledge of AutoForm.
Thirdly, if you are one of those applicants that has been working in the sheet metal or automotive industry for years – get published. Of course, this is not required before you apply – but there are a few advantages. Such recognition in our industry gives you a competitive edge. Your name is out there. Your expertise is very easy to demonstrate. If you haven't published anything as of yet, you can submit a guest post to our blog FormingWorld.com. This is an easy way to get published. If you have done anything in magazines or other printed media, even better.
Fourthly, we find anyone who attends trade events impressive. Go to trade-shows or speaker-conferences. This shows real dedication and you'll hear about the latest trends in sheet metal forming. Trade events we recommend include: EuroBlech, BlechExpo, Fabtech, IDDRG, EASTEC, Great Designs in Steel etc. Also, find out which events AutoForm is attending! You can always ask questions at our booth and introduce yourself and listen to our keynote speakers.
Here's what two of our current employees have to say:
"After finishing my Master's degree in Industrial Engineering, I applied at AutoForm to gain a full spectrum of automotive experience in an innovative and growing company. From the beginning AutoForm showed great trust in my abilities, granting lots of freedom for my creative ideas. This enables my professional success and a remarkable work-life balance at the same time." Leonard Krauss, Application Engineer.
"I'm back at AutoForm for the second time. Originally I worked at AutoForm and then was employed at Simufact where I gained experience in assembly. Like a "boomerang" I've come back to where I started and AutoForm hired me again. This is because the relationships are strong here and we all trust one another. We recognize the value of skills gained elsewhere." Burkhard Ravagni, Manager Business Development.
Apply for your new job at AutoForm now!