Why a few holes can make all the difference
In this article Alan Stimac, AutoForm Senior Technical Product Manager, describes the story that brought one OEM to start using AutoForm's cost engineering solutions. This anonymous OEM decided to test the software against their old calculation methods to find out how accurate it really is in regards to arriving to cost-projections for Progressive Dies. Here is what happened.
During a recent visit to their customer AutoForm was given the chance to examine its solution for arriving to accurate cost estimations for part forming tools. The anonymous OEM in question already had our product but wanted to review it against their old system, which had been used for estimating progressive die tooling cost. What benefits were they really getting by adopting this software solution? Alan Stimac, Senior Product Manager and Fabrizio Tinti, Technical Manager, both visited the OEM. AutoForm's Product Manager Horst Vogt interviewed them to find out what happened.
Alan said "In using many of the in-house solutions in combination with CAD software, we see at OEMs situations where input information is in hands of the operator or simply missing due to complex information flaw. Nor can you measure holes in an instant which indeed have an impact on costs once projected over large scale production. We encounter many companies using processes that demand too much time. If you have of all this automated you can then involve a CAD system at any point along the process chain, for example, and then you'll see that changes accumulate  additional expenses, which is why such changes should be included. Only the best tools have the capability to take all this into consideration."
What Happened at the American OEM
"At the time they were using AutoForm's solution already for line and transfer tool cost estimation and planning, yet in this particular instance they were going to use it for progressive die cost for the very first time" said Alan. 
Their reference for 'accuracy' was their Excel based calculation system which was set up according to their own formula and their cost engineering experts. This tool was used once again to compare to the AutoForm solution. Alan laid down the challenge, saying "OK give us an example of a part. Let's calculate using both our method and your method and then we'll see how they compare."
In total four examples were examined. The first two matched so closely there was no question as to the accuracy of AutoForm, since base was their own "trust-worthy" method. It was a discrepancy between the third and fourth examples that initiated discussion however.
Alan said "Both the third and fourth examples matched closely. The third example was for one part that had a die size of nearly 2 meters by 1.5 meters. In the fourth example there were two parts but the die sizes were exactly the same. The OEM's system estimated the first example to cost at €150,000. Our system estimated a figure very close to this indeed, that one could not say either was incorrect. Everything looked good for us so far."
Fabrizio joined, saying "Then Alan got to the fourth example. Their old system estimation arrived to €150,000.00 again, seeing that most of the input variables, such as length and width of the die, part surface etc. were all the same as with the other part. Then Alan ran the same project through our software but the cost estimation however arrived to €170,000.00. The difference was thought to be significant seeing the die size was in the category "small dies". It is here, in instances like this, that a customer might typically suspect that AutoForm is wrong!! But we do know the reason for this, so we always propose that we first examine the processes involved behind the fabrication."
Alan continued "Using our system means the process is preserved in digital form and it can be reviewed very easily. I opened the two examples (in one GUI side-by-side, tool not many other systems have) and explained how the €150,000 process is a very simple crash forming process. That part is a little bit bigger but the number of operations was only two operation less when compared to the other, which still does not account for the additional €20,000 seen in the fourth project. Simply put, the third example didn't have many holes or cams, being of a simpler design. The fourth example however had two parts (and not one like the other), a little more cutting, and although the parts covered the same area and indeed had the same length and therefore die size, it still had a few more cams and a few more holes in comparison. This is where additional costs accumulated and could be observed."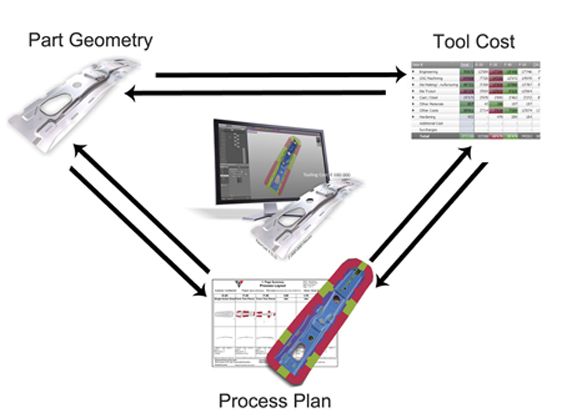 Fig 2: Changes lead to automatic updates to the cost.
"The OEM immediately understood and gets a competitive edge by utilizing this solution to its full capability. For many other OEMs out there, they are still missing out on these added features, simply because it is not possible to input all of this additional data into their own systems, or because their own process relies on uncertain manual inputs (arriving from many different solutions). Many OEMs are still not able to input the size of a hole or the number of operations etc. like this one does. All of these things accumulate cost which drastically changes the total figure. Even in this instance it happened when the two die sizes were exactly the same. The deeper reason for such hidden cost factors can be easily extrapolated however, and they will identify differences when it matters. Here, anonymous customer was working with the same die size, the same press etc. and by utilizing our solution they got the full benefit and saw a €20,000 difference. Where many others would assume something was wrong this OEM simply has the advantage and experiences far better planning." explained Alan.
"What they are now doing is more accurate because it's based on input that should never be excluded, as it brings us ever closer to reality at this very early stage of budget planning. For our customer it was clear that this is the strength of our system and validates why they needed it in the first place. Also beneficial for them, they realized the reporting power built into AutoForm for communicating the data. Now they know that whenever there is a cost divergence worth investigating they can easily compare two processes and easily obtain more transparency within their own process." explained Fabrizio.
Horst further explained for OEMs using the Excel method you certainly don't have the complexity to include all such variables nor a live update as a project is changed. Everything has to be manually entered again into Excel should any changes be made. "How users of the Excel system work is that they have to open a CAD system, export a part in order to open a blank, then import this blank outline back into the CAD system to do the layout. Once they have done the layout they open an Excel file, manually input the data without any direct connection to the project files. Such a system has a macro that calculates the total figures. Yet 100% is manual input. It is only after customers start using our solution that they further understand how they must have been missing many factors in earlier projects."