Formatype is a company that designs, processes, and manufactures complex shaped metal parts for prototyping, pre-production, or small series. From costing to development for more than a hundred complex projects per year, simulation is now a critical part of the company's strategy.
Established in 1987 in Chérisy, France, Formatype offers customers a comprehensive range of services in the fields of tooling, machining, stamping, laser cutting, sheet metal forming, assembly, welding, three-dimensional control, and tube bending. As a Tier 1 supplier of body-in-white parts for French car manufacturers, Formatype also supplies complete exhaust systems, heat shields, seat parts, steering columns, and dashboard crosspieces for OEMs. In addition to the company's focus on the automotive industry, Formatype also provides expertise to other mobility sectors (agricultural equipment, railways, construction equipment, etc.) as well as household appliances.
While Formatype was already active in prototyping and small and medium series production, the company quickly recognized the added value in digitalizing its processes with CAD design, stamping simulation, and CAM. Formatype has used AutoForm's software solutions since 2015 to design and simulate its stamping processes, running at least one or two simulations a day.
AutoForm Simulation in the Quotation Phase
Simulation has become an essential tool for Formatype over the past few years. Initially used in process engineering, simulation has also quickly become an important tool in the quotation process. It facilitates fair offers for the most complex parts and confirms their scope (number of tooling stations, etc.).
Simulation is also an extremely valuable communication tool in meetings with the customer. In case of a product change request, Formatype can provide tangible and concrete evidence to explain the potential issues early on and propose solutions. All this reinforces Formatype's position as a reliable partner for each one of its customers.
Efficiency of the Design/Manufacturing Chain
Once the order is received and the project commences, AutoForm ensures the robustness of the entire development process until the first part is produced. Simulation saves time in process development, tool surface design, and checking the forming result before milling. Formatype analyzes the feasibility of the part and the level of springback at the end of the forming process, quickly identifies issues, and easily tests action plans to correct them. The surfaces created in AutoForm can be used directly for machining, precluding the need for CAD and saving significant time. Tryout has also become much smoother — the tryout expert systematically receives a simulation report specifying the process parameters (forces, blank size, etc.) and the potential issues on the different areas of the part.
With the simulation anticipating problems very early on, Formatype is no longer met with unpleasant surprises once tryout begins.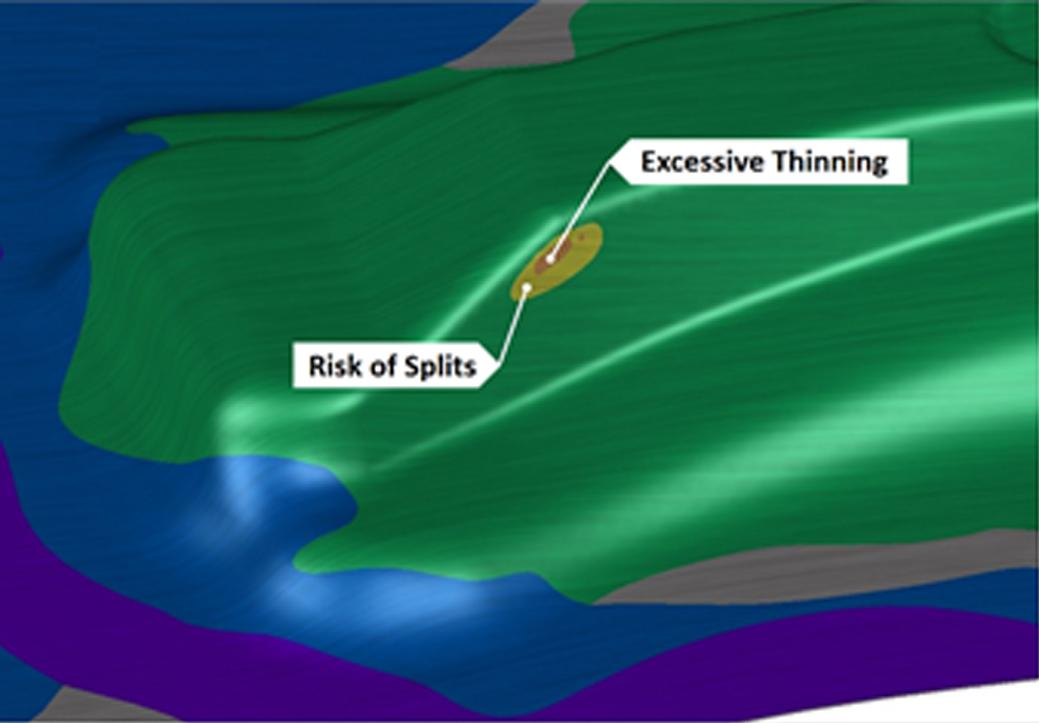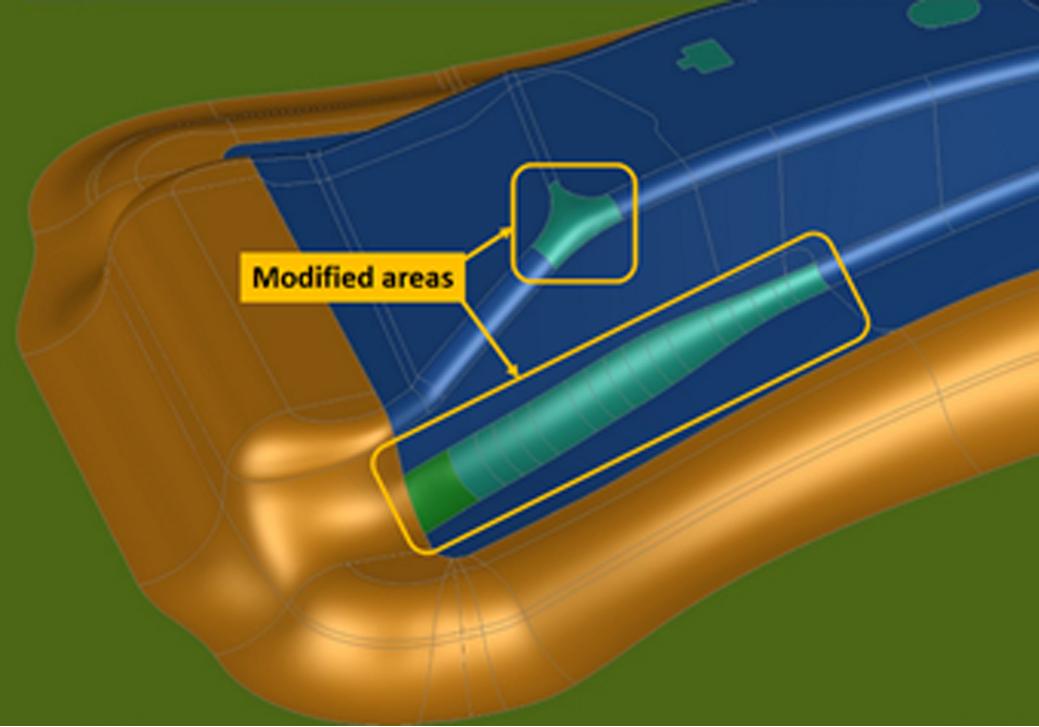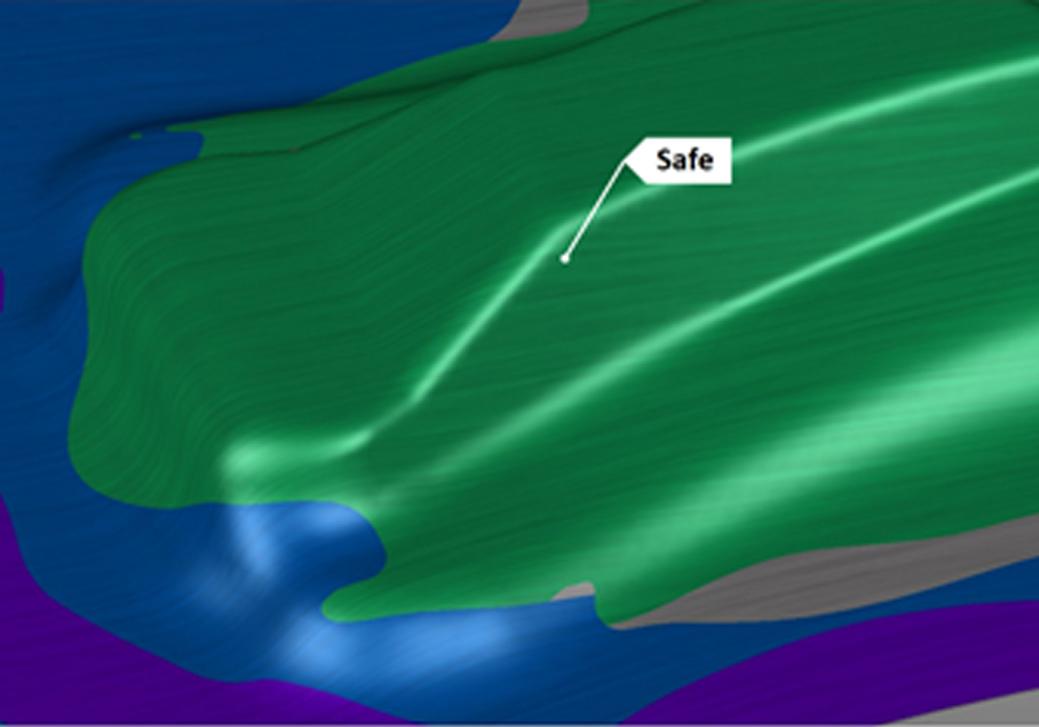 Image 1: Virtual tryout thanks to simulation: the tools included in AutoForm for geometrical modifications enable the user to quickly try countermeasures and check their influence on the final part feasibility. In this case, modifying the part corner and increasing the radius made the split disappear.
Formatype's Strategic Positioning
Formatype CEO Jean-Philippe Brunet has been thrilled with the arrival of AutoForm, since it has allowed the company to diversify its offerings: "AutoForm is a tool that has helped us move up in the automotive value chain, to not be seen as a classic prototype company anymore." This know-how allows Formatype to interact directly with the design department of car manufacturers and Tier 1 companies, primarily in France so far but increasingly abroad, especially in Germany, which remains the reference market for the European automotive industry. For example, Formatype has been able to support many of its customers in their transition to using new high/ultra-high strength steels to meet weight saving constraints; these new grades require the use of simulation for an efficient product and process design. This specialized expertise reassures customers of Formatype's ability to deliver every time. The company has also entered new markets in non-automotive sectors that are not yet applying AutoForm simulation — Formatype has developed a co-design activity for parts historically produced by forging or bending so they can instead be manufactured through a stamping process. Through innovations like these, Formatype leverages its capabilities to help customers successfully carry out their projects and transform their processes.
Communication & Know-how
Finally, simulation plays a very important role internally in communicating and sharing know-how throughout the company. It facilitates clear, unambiguous communication between the distinct departments across the company, such as costing, method planning, and workshop; simulation is now the basis for decision-making at these different levels. After a transition period, all parties of the entire stamping chain are now convinced of the immense value of adopting simulation, from the cost estimator to the tryout expert who uses the information from the simulation to assess the tools.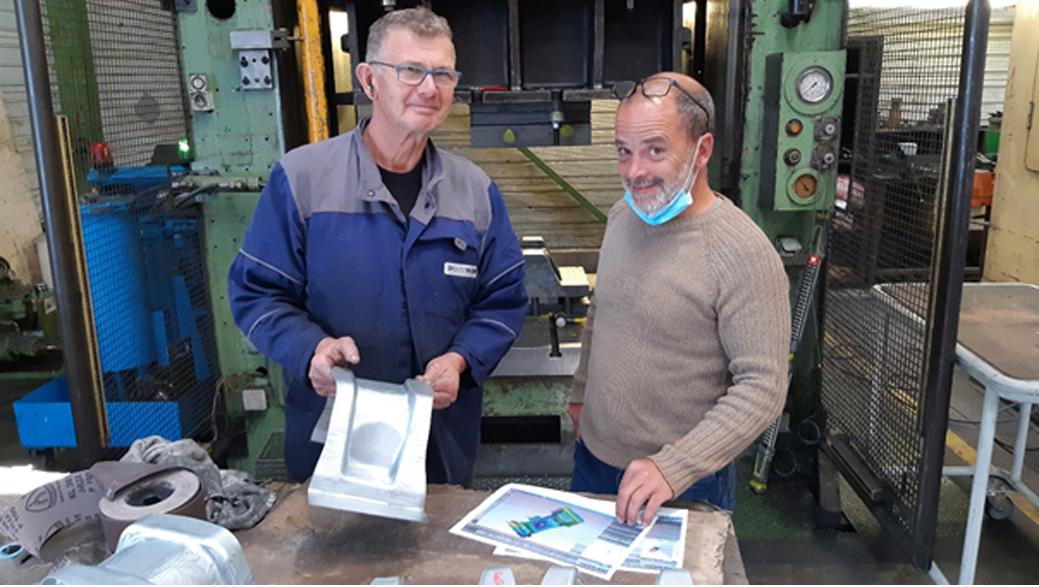 Image 2: Teamwork! Collaboration between tryout expert Patrick Abraham and AutoForm expert Grégory Vigneron next to Formatype's 250t hydraulic press. Now that the tryout experts systematically receive simulation reports, Formatype no longer experiences unpleasant surprises during tryout.
J.P Brunet is particularly concerned with the sustainability of knowledge within his company, reflected in the MAP 4.0 (Mise Au Point 4.0) project he launched in 2021: "By accurately documenting the tryout and systematically comparing it with the AutoForm simulation results, this project enables Formatype to capitalize on invaluable feedback for its future business."
In conclusion, Formatype is deeply transforming itself thanks to AutoForm simulation, which has undeniably become an essential tool to "get it right the first time"!